muzinin – Even under the most difficult conditions your reliable power-water-additive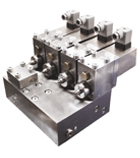 Advantages at a glance:
muzinin
power-water-additives preserve the system free of problems in continuous 24-hour service. A
muzinin
-solution will remain stable even under the highest stresses, whether through an extremely high flow speed or through very high pressure. This is the most important requirement of our products for long service life. Its particular affinity for metal and good wetting properties due to surface activity support the outstanding corrosion protection.

Features of muzinin
highest stability
outstanding lubricating film
excellent corrosion protection
high ability to withstand pressure
outstanding wear protection
resistant to foaming
good tolerability by human skin
compatibility with customary sealing materials
resistant to microorganisms
freeze-resistant, after addition of FR 58 anti-freeze agent
ecologically benign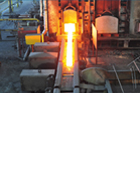 Areas of application
muzinin
can be used in all water hydraulic systems in a wide range of sectors, e.g. in:
the wood industry
the rubber industry
the plastics industry
the steel industry
the aluminium industry
the automobile industry
also in
test presses
forming operations
hydraulic lifts
pumps
isostatic presses

Products which are
harmonious with nature
– for your water hydraulic systems