muzin – Even under the most difficult conditions your reliable power-water-additive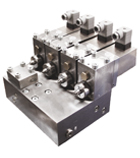 Advantages at a glance:
muzin
power-water-additives preserve the system free of problems in continuous 24-hour service. A
muzin
-emulsion will remain stable even under the highest stresses, whether through an extremely high flow speed or through very high pressure. This is the most important requirement of our products for long service life. The special composition of high quality emulsifier components and stabilisers makes the difference.

Features of muzin
high emulsion stability
outstanding lubricating film
excellent corrosion protection
high ability to withstand pressure
outstanding wear protection
foam free
good tolerability by human skin
compatible with customary sealing materials
freeze-resistant, after addition of FR 58 anti-freeze agent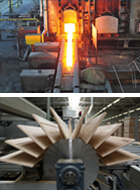 Areas of application
muzin
can be used in all water hydraulic systems in a wide variety of sectors, for example in
the wood industry
the rubber industry
the plastics industry
the steel industry
the aluminium industry
the automobile industry
also in
test presses
forming operations
hydraulic lifts
pumps
isostatic presses
Excellent corrosion protection
Tests show excellent protection against corrosion.

In water hydraulic systems it is extremely important to use special power-water-additives which provide optimal corrosion protection, because corrosion damage is very costly.

When using muzin, corrosion will not develop as long as the prescribed parameters are adhered to.


Outstanding lubricating film
Apparatuses operated with muzin-emulsion have long service life.

This has been confirmed by well known manufacturers of plants and components. Valves, seals, pistons and control means suffer constant wear, as a result of the extreme pressures and very high flow speeds. This wear can be minimised by the use of optimum power-water-additives.

Studies confirm optimal swelling behaviour of seals. Based on these facts but also as a result of the outstanding lubricating film, seals may often last for a number of years.


Minimum cost
with maximum effect
– for your water hydraulic systems